Today, to succeed in the ever-competitive landscape of business, building a strong online presence for your organization is very important. Apart from having social media channels for your brand, another good way to reach your target audience in the digital space is to establish an online community. Communities are the heart of building relationships and conversations with your potential clients and customers. Besides brand awareness and promotion, an online community is also a great source of ideas, feedback, and inspiration that can help you develop better business strategies.
While there are many community-building software available in the market today, one of the most popular solutions used by leading course creators, niche experts, and digital entrepreneurs is BuddyBoss.
What is BuddyBoss?
BuddyBoss is an open-source community-building platform that powers thousands of sites worldwide. It has since gained popularity because of the plethora of features and functionalities that also extends to its native mobile app.
BuddyBoss has made it easier for business owners to build their own online communities, eLearning websites, and niche hubs, to bring members, customers, clients, and fans together in one place.
What are Spaces for BuddyBoss?
Spaces for BuddyBoss is an add-on that allows you to create dedicated business pages within your online community. It allows you to showcase your products and services, publish news to your audiences, and gain valuable feedback from your members.
Who can manage Spaces for BuddyBoss?
Anyone who has a BuddyBoss-powered website can install the Spaces for BuddyBoss plugin and create as many Spaces within the website. Apart from being the owner of a Space, you can also assign roles such as administrators and editors to help you manage Spaces more effectively.
Administrators have the highest level of authority on a Space. They can modify all aspects of a Space, including adding and editing roles of other users.
Editors, on the other hand, have a similar level of access as an Admin, except managing and assigning roles and settings to other users. Both Admins and Editors can post updates and send private messages on behalf of your business.
What are the features of Spaces for BuddyBoss?
With a community website in place, Spaces for BuddyBoss supplements your community-building efforts by allowing you to set up a business-focused page for your organization within minutes. This Space serves as your central hub to communicate with your customers and clients. It's packed with features too, similar to how Facebook Pages work.
Space Activity Feed
Each Space features an activity feed where your members can view an interesting stream of updates, news, announcements, photos, and videos. The Activity Feed helps you keep your members engaged and motivated and also encourage them to interact and connect with each other.
Admins and editors can publish text and media (photos, videos, GIFs)
Admins and editors can edit published posts
Space members can react, like, share Space posts
Space members can comment on Space posts
Space Message Inbox
Every Space that you create also comes with a private message inbox that can only be accessed by the Space owner as well as the Space's administrators and editors. The inbox allows you to send and receive private messages to your members with ease.
Owner, admins, and editors can send and receive private messages from Space members
Owners, admins, and editors send and receive private messages without revealing their identities. They can communicate with members on behalf of the organization
Space members can send private messages to any Space
Space members can view all conversations with any Space
Easy Space Customization
There are plenty of customization options you can choose from to design your Space the way you want it to look. Change your Space's colors, add widgets, enable social media quick links, and more.
Native BuddyBoss Notifications
To make sure members receive important updates and announcements, the plugin also sends in-browser notifications that are native to the BuddyBoss product. These notifications appear as a red badge on the bell icon in the navigation bar. Notifications alert your members whenever they receive new private messages or when their comments get reactions or interactions from other members.
Why are the benefits of using Spaces for BuddyBoss?
Spaces for BuddyBoss easily allows you to create another marketing channel from within your website. Having a dedicated business page complements your community-building efforts and also offers these benefits for your organization:
Raise brand awareness
Customers can simply click on the 'Follow' button on your Space and receive notifications when you post news or announcements on your activity feed. Each Space also displays a quick view of your brand's location, services, products, and other offerings that can spark interest for them to interact with your brand.
Encourage potential customers to communicate with you
Sometimes, your brand may pique people's interest, however, they would like to get to know more about your organization. Potential customers can now just simply reach out to you via private message and get more information or get their questions answered quickly.
Establish authority
As customer behavior continues to evolve, it's always a strong business strategy to show that your brand is active especially in the digital space. As more discerning customers do their own research, having a Space creates a strong impression that your brand values customer feedback and insight. Encouraging conversations with your target market in a social space helps you establish authority within your industry.
Get Spaces for BuddyBoss for your website today
Online community websites become successful when they provide more value to their audiences. When your community members are engaged, your brand can create better products, services, and offerings which lead to achieving more of your organization's goals.
Spaces for BuddyBoss Lifetime Deals
Offer more support and value for your customers and get Spaces for BuddyBoss today. Lifetime deals are currently ongoing!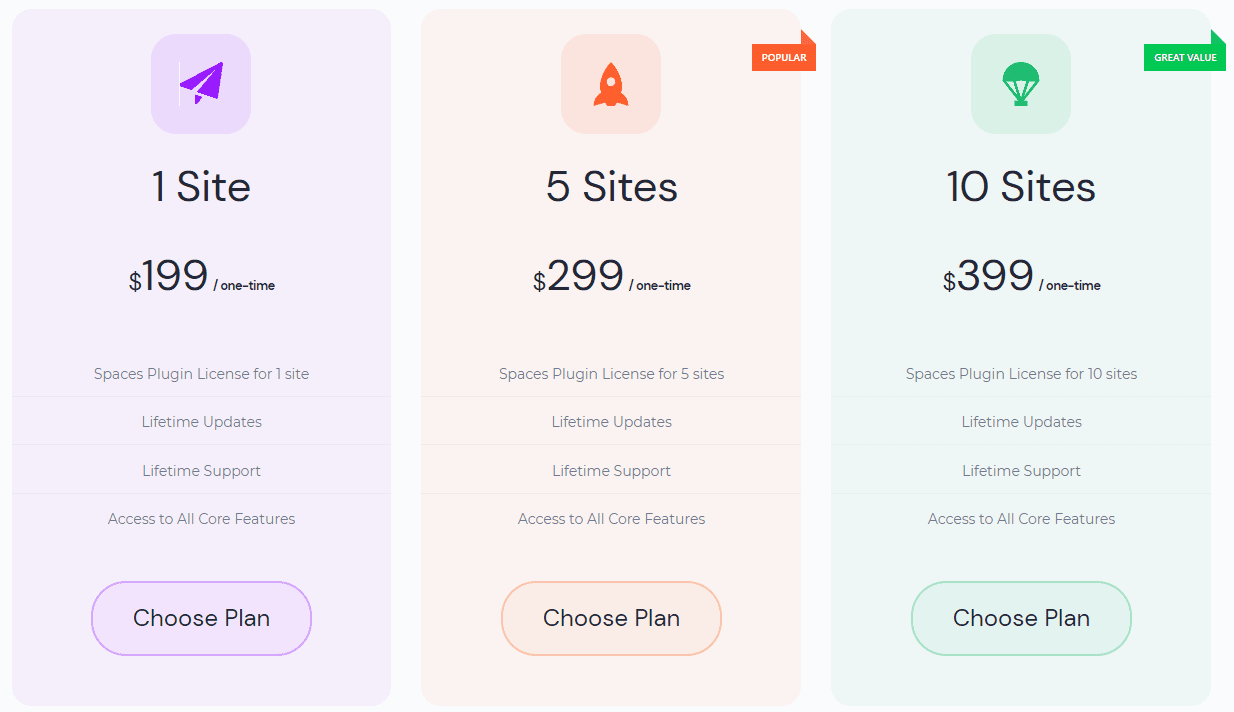 Make the investment for your BuddyBoss-powered community website! Your community is the most valuable asset that can help your business scale and grow.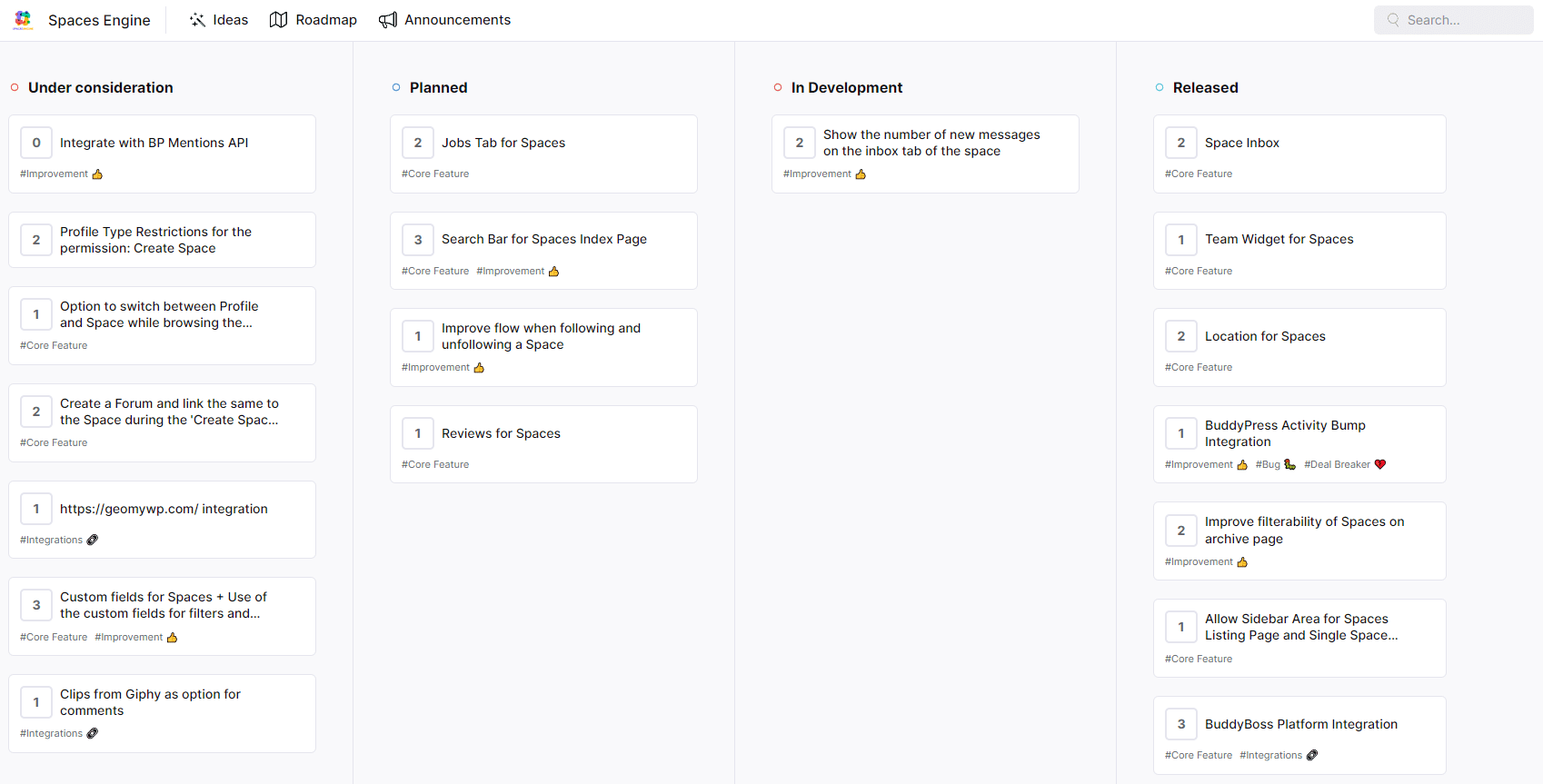 See what's next for Spaces for BuddyBoss
You can also view the Spaces for BuddyBoss product roadmap to see what the team is working on, and share your own feature requests too!