Spaces are the right for you if you are looking for a business directory to easily and feasibly highlight your WooCommerce Platform.
We all have heard of Spaces Engine and how it helps elevate your BuddyBoss Community by building a solid community channel. With Spaces, you can highlight your products or services efficiently, reach the end consumers directly, and provide them with a strong communication channel.
With Spaces Engine as part of showcasing your store, it already becomes more accessible for store holders to promote their business. But how does it help to boost sales? We will gradually get to that point in this article.
How Spaces Help to Boost Your WooCommerce Sales?
Space Engine offers advanced features for promoting a marketplace with all the benefits of an interactive channel for your audience, other dynamic features of Space help to showcase your store like no other platforms did before. Let's dig deeper and see what Spaces does for store owners.
1) Get A Face for Your Store:
Several studies show that almost 66% of buyers like to purchase online. With an impressive visual representation and interactive channel, your store sales will be unstoppable. Spaces Engine ensures every WooCommerce Store holder gets that opportunity seamlessly through an up-to-date business directory.
Moreover, your WooCommerce store is not limited to any specific number of traffic. It can circulate millions of traffic in a minute. So why hold back? Spaces allow you to showcase your store in the most innovative way possible. You can quickly get started with Spaces for your WooCommerce store and create a dynamic platform for your target audience.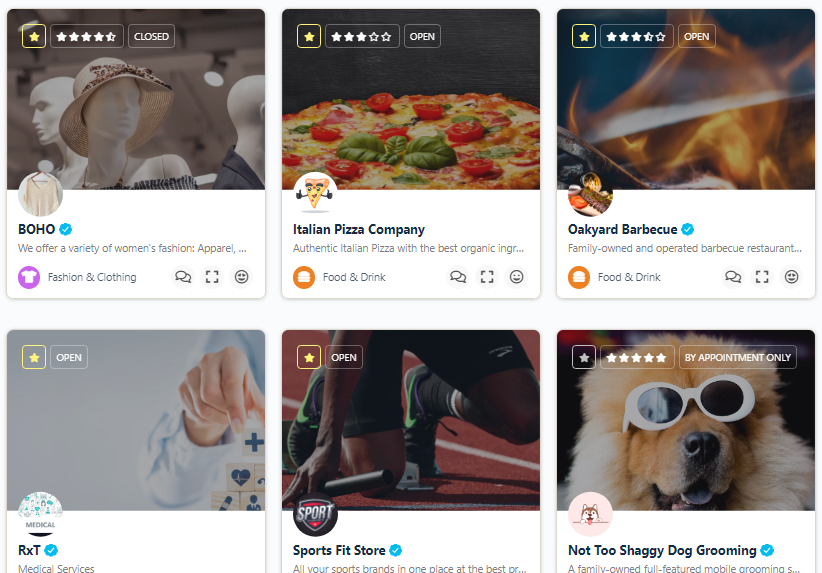 2) More Than A Store:
Spaces are like pages for a BuddyBoss Community. Each Space contains essential information about your store that brings the audience one step closer to growing interest in your brand. Besides featuring a couple of action buttons, you also have an interactive news feed to post updates regarding your store or make announcements for new releases. Two-way communications are excellent for knowing your audience is happy and, in the meantime learning about their behavior to take the next commercial step for your store.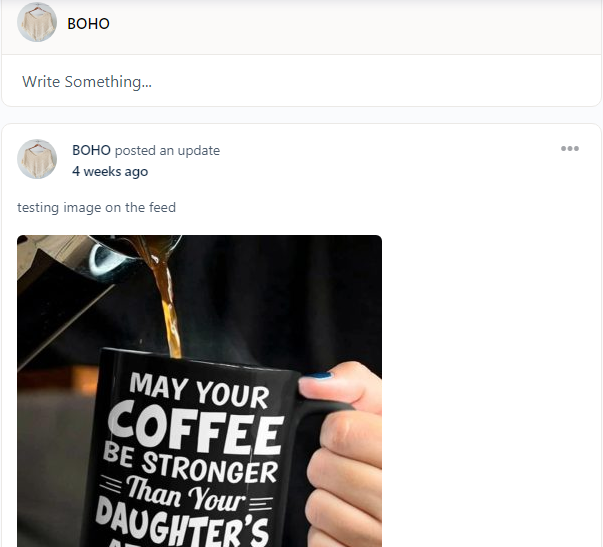 Using the custom tab, you can create events and donations, promote offers and discounts, and post jobs for your WooCommerce Store. Spaces accelerate your WooCommerce sales by adding brand value to them. You are simply creating a fantastic business profile using Spaces.
3) Gain Trust with Reviews:
Store owners often rely on websites or social channels to run all their errands. But in every case, reviews and feedback help improve your business and get more conversions. Interested prospects want unbiased feedback from actual people. Since online is where they cannot see the products for themselves, an honest review increases the chances of sales by 10%.
You can also collect reviews from customers using Spaces. The Spaces review section contains many options that give viewers a concrete idea about your service/ product. Our thoughts are easy to share and easy to follow.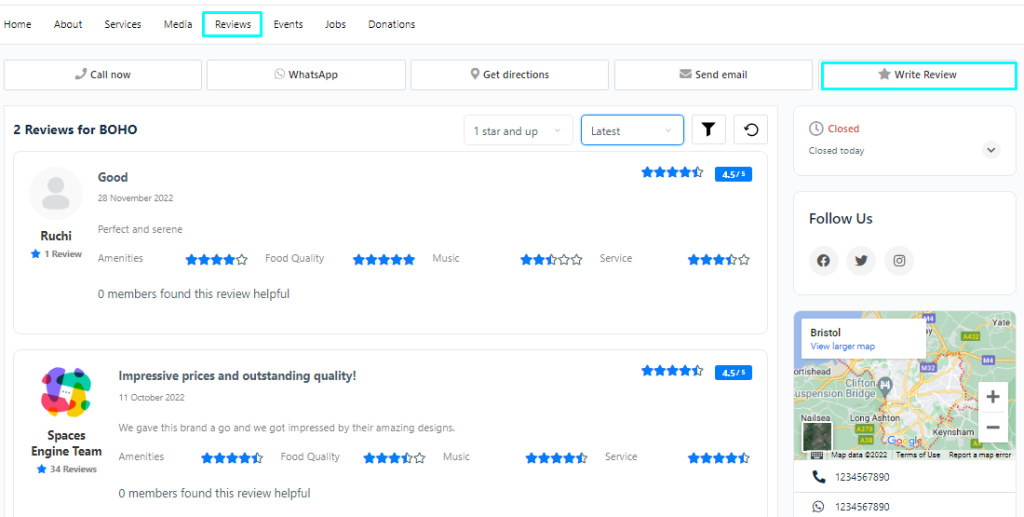 4) Seamless Messaging Option:
For websites, the best way to establish communication with the authority is through emails. Or you can also start a chat through the chatbox. However, most chatbots often contain set-up messages until a representative takes over.
While emails take a significant amount of time to respond to, several reports have shown that text messages are quick and short, and 98% of text messages get replied to within 1 minute. This is why the mass community prefers sending short messages over emails for inquiries.
Our Space team has developed this remarkable feature where you, as a Space, can send messages to individuals. On the other hand, customers can send and receive text messages from the Space Owners and initiate conversations.

This message option is simple and fun to use. You can even use GIFs and have more fun.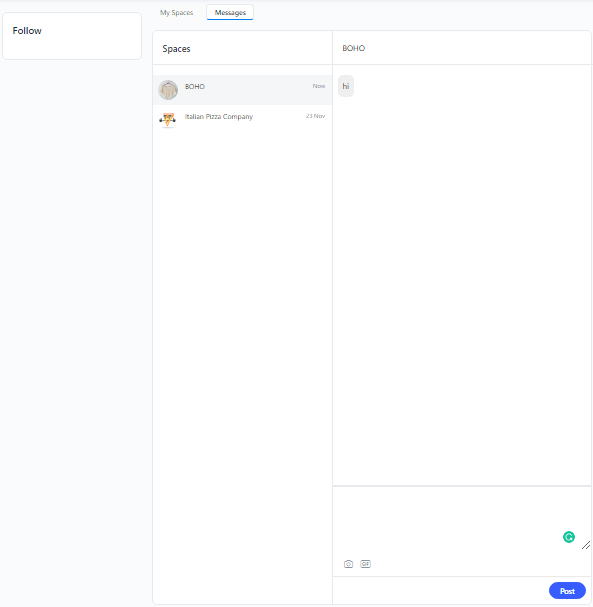 5) A Sneak Peek at Important Store Features:
Let your prospects know more about your WooCommerce store and grow their interest by looking at it. Our smart preview modal helps the audience learn essential facts about your store without opening the Space.
To know more about setting up Spaces Preview, visit here.
Store owners can let their audience know about these facts about their store from the preview modal:
1) Featured/ Promoted: Whether your Space is promoted or not.
2) Spaces Rating: Highlight your ratings from your Space's preview and let the audience know about your shop performance.
3) Work Hours: Let your audience know if your shop is open from the Space Card.
4) Verification: Is your store verified? You can add this information and make your WooCommerce store more credible to traffic worldwide.
5) Phone No. And Location: You can easily make your Space preview modal helpful to others and add important information like contact info and physical shop address to the Space card.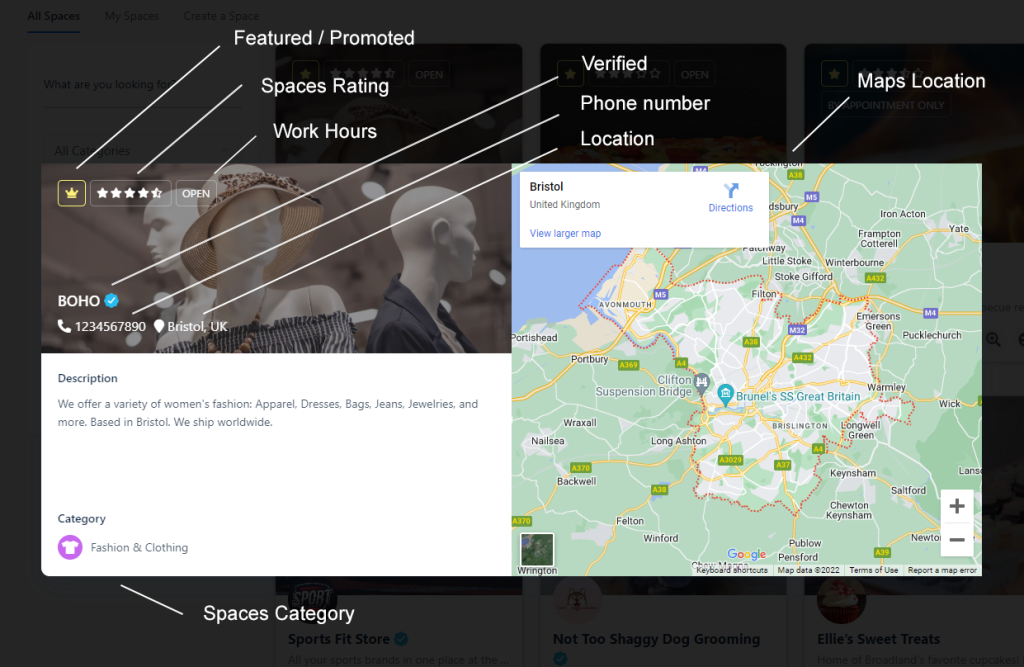 6) Maps Location: Not only that, let your audience have a direction toward your shop using Google Maps. Get a hold on how you can integrate your Space with Google Maps here.
7) Store Category: This is important. People can learn what your store is about without even visiting the Space Card. With Spaces preview, you can easily add this piece of information.
8) Description: You can also add more information about your store and tell them about your business goal/ mission. These pieces of information help to develop a strong brand appearance before your audience. And the Spaces Preview holds it all.
How to Embed WooCommerce Store to Spaces:
Highlighting your products in Spaces is easier than you think. Spaces use short codes that we all know of. You can easily highlight your product page/ checkout pages using these shortcodes. WooCommerce provides a comprehensive list of shortcodes to use for different pages. Where to add them?
Spaces Engine lets you create as many custom tabs as you need. There is no limit to creating custom tabs. However, you must flush your permalinks before setting up custom tabs.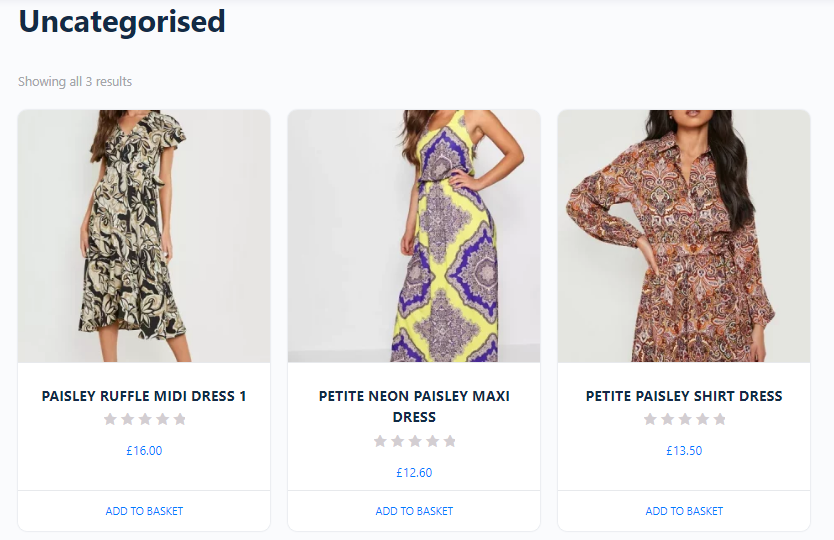 You can similarly add shortcodes for other pages like "Add to Cart," "Related Products," and many more.
You can always follow this detailed doc here to learn more about custom tabs and how you can create them.
Are you planning to get Spaces Engine today and let all the WooCommerce Store owners have a chance to promote their store in your business directory? Check out our reasonable plans for you.
Final Words:
Spaces are the dynamic addition to WooCommerce store owners' way into a systematic and modern store management system. You can offer them exciting deals and, in the meantime, an interactive platform to communicate. It's like a social media channel but with the added benefits of a front store.
This interactive communication method hooks the audience into active conversations and gradually grows their interest in your product/ service. In a nutshell, Spaces can be fun, interactive, and a valuable platform for your WooCommerce store. If you have yet to be a part of it, you should get a Space for your store and more conversions.
This was all for today. If you have any more objections or inquiries, please leave a comment. Please share this article with your friends and communities and pave the way to get more sales for their WooCommerce stores.