Spaces Engine has made our community life easier. With this enhancement, Buddyboss users can now create their business directories. And also, allow other business owners the opportunity to reach a different customer base.
Spaces Engine is solely made to assist the BuddyBoss community. However, if you are not using BuddyBoss and need a business directory plugin, there are plenty of WordPress plugins available to help you.
Today, we will learn about those business directory plugins that you can seamlessly use with your WordPress site. Even if you are not a part of the BuddyBoss community, there will be nothing stopping you from creating a powerful business directory website.
Spaces Engine: Alternative Directories
Spaces Engine is a powerful business directory plugin for the BuddyBoss community. The irony is that it can only be used with the BuddyBoss. It is an organized directory platform that highlights all the major details about your company profile known as Spaces. Besides, there are infinite opportunities to personalize and add custom information about your company profile here.
However, you can also have a top-grade business directory on your WordPress website. Check out these collections of business directory plugins with us.
Connections Business Directory
GeoDirectory
Business Directory Plugin
Advanced Classified and Directory Pro
Listing Pro
Directorist
1) Connections Business Directory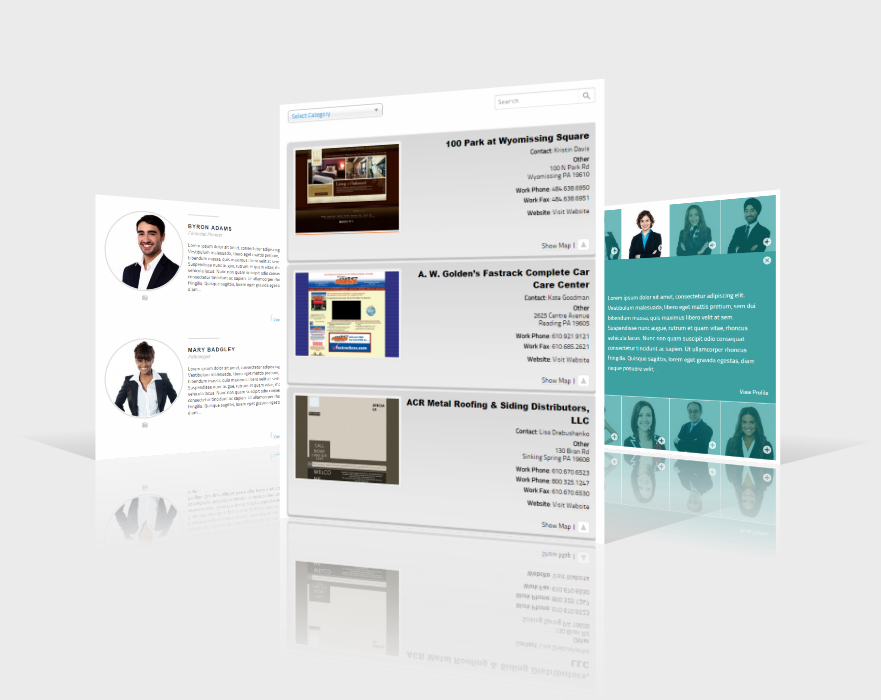 Connections Business Directory is a free directory plugin for WordPress. It is completely free of charge and comes with a simple interface and functionality. This plugin features a huge set of unique features and flexibility; which ensures you to create any kind of business directory.
This business directory plugin was developed to be as programmable as possible. Here, both the administrator and the users can restrict information for certain custom fields like the business phone directory or so. Besides, this plugin is continuously updated with free features to enhance your journey directory website.

Using this plugin is very easy. If you are using a WordPress site and looking for an easy and seamless way to create a feature-rich business directory free, Connections Business Directory is the right choice for you.
Key Features:
Completely free with no hidden charge.
Enjoy seamless integration with powerful plugins.
Seamlessly manage directories with hundreds/ thousands of entries.
Translation ready with partial support for many languages.
Get high functional support from the professional support team.
Use shortcodes for your business directory page.
2) GeoDirectory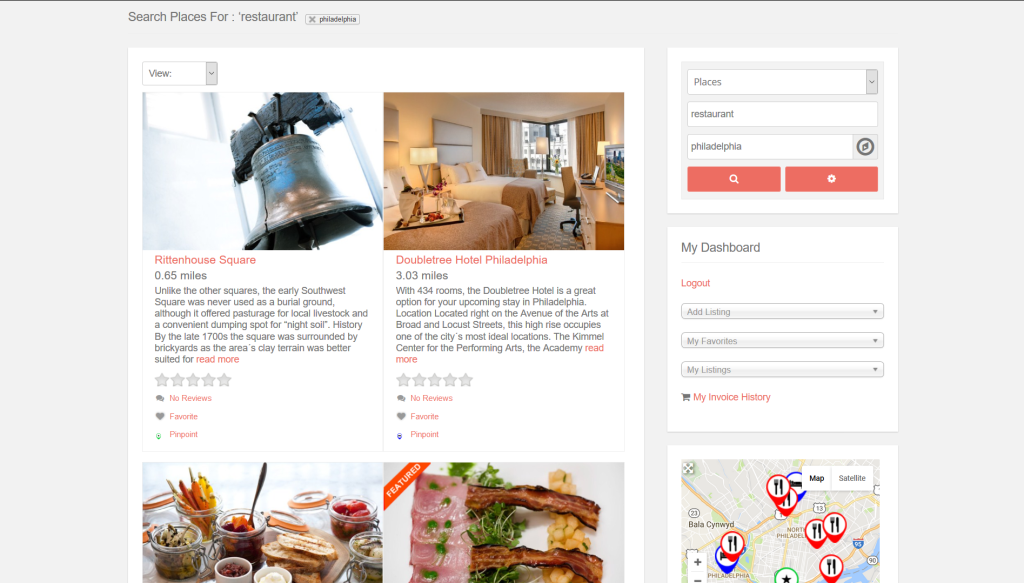 GeoDirectory is a feature-rich plugin for creating location-based business directories like TripAdvisor or YellowPages. As simple as it is to use, you can also migrate all your GeoDirectory listings to Spaces smoothly.

It is a free WordPress directory plugin. However, most of the add-ons are paid. It's a highly compatible plugin with the Gutenberg editor or other page builders like Elementor or Divi. Because it is a fully responsive business directory plugin, it is suitable for any device.
With GeoDirectory, entries are listed on Google Maps (with Google Map Integration). With this, people can easily track business locations, neighborhoods, or even residence locations, etc. Besides, users without administrative access can also submit their listings using any customized form.
Key Features:
Free WordPress directory plugin.
Premium features with paid add-ons.
Compatible with other WordPress plugins and themes.
Users can use a Zip code or location to search entries.
Comes with a drag-and-drop form builder.
Comes with built-in reviews and business inquiry forms.
Integrates with BuddyBoss.
3) Business Directory Plugin

Business Directory Plugin is a simple free WordPress plugin for creating effective business directories. With all the basic features included, you can use this plugin to build any web directory with custom fields or include different payment options.

With this simple, business directory plugin, you can generate listings or entries in bulk with the built-in CSV import feature. There are also additional features for customizable form fields and drag-and-drop media uploads and featured entries.

You can also segment entries into different categories and tags. Besides allowing payments in your directory, you can also set up recurring or free payments as well. Since this Business Directory Plugin is compatible with other powerful payment tools like PayPal or Stripe, customizing your payment options won't be an issue.
Key Features:
Free and effective business directory plugin with a simple interface.
Additional add-ons to enhance features like Google Map Support, Zip Code Support, or Discount Codes.
Prevents Spam listing with ReCaptcha.
Device friendly and highly responsive.
4) Advanced Classifieds and Directory Pro

Advanced Classifieds and Directory Pro is a highly professional, powerful, directory plugin for your WordPress website. It's a free plugin but you can also get the premium version with advanced listing plans and many more. However, the free feature is quite convenient for beginners, and for a starter, you can easily get along with it.

With Advanced Classifieds and Directory Pro, you can set an infinite number of custom fields with which your site listings can easily cope. Cover all the sectors of business and advertise as you like. Besides, it also comes with a highly customizable location setup and smooth backend management.
Enjoy the flexibility to control what and how to display your business listing to the viewers and customize based on categories/ locations view, sort order, and many more.
Key Features:
Unlimited listing and custom fields.
Comes with several display options.
Support Gutenberg Blocks and Sidebar Widgets.
Uses ReCaptcha to block spam listing.
Premium features include WooCommrece integration and different payment gateways.
5) Classified Listing Pro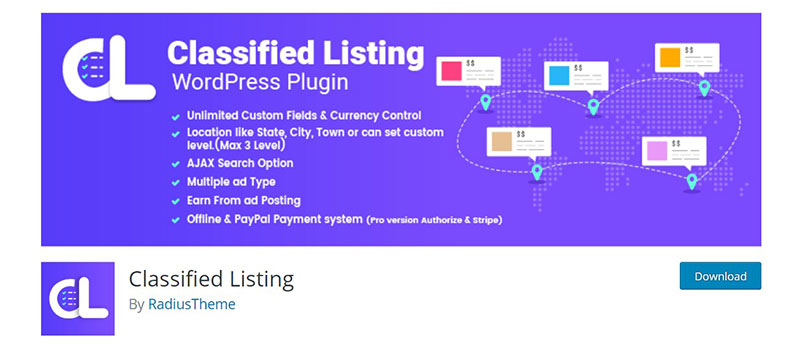 You can plan on creating any confidential listings or business directories with Classified Listing Pro. It is an advanced WordPress plugin and comes with premium deals. From classified ads to local and job directories, you can create any type of service directory with this plugin.

It is a free plugin. But to unlock all the premium features, we recommend you use the premium version. Talking about advanced features, there is a live chat option that comes with Classified Listing Pro. Through this channel, both buyers and sellers can communicate easily. In Spaces, you can also use a personalized chat box to directly contact individual Spaces.
Other features also include:
Key Features:
Enhance your business directory with advanced options like setting business hours.
Share listings on social media platforms.
It's a translation-ready plugin and supports easy integration with other translation plugins.
Supports reviews and ratings.
Uses ReCaptcha to prevent spam listings.
Customize layouts and archive pages using different Elementor Widgets.
6) Directorist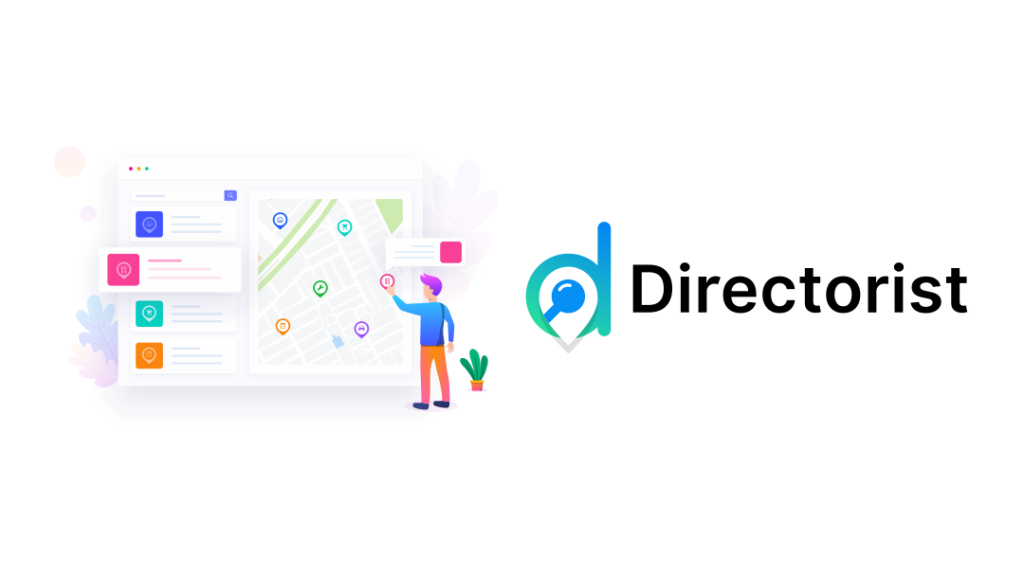 Build online directorist like Yelp, Yellow Pages, or Tripadvisors with Directorist. With one of the most simplified processes to create unlimited business directories. It's a highly optimized plugin and ensures the most feasible user experience for directory management.
With this plugin, you can create a list of location or category-based and many other directory types. Directorist is suitable both for beginners and developers. You don't need a single line of code to run this plugin. Besides, it's fully compatible with any WordPress theme including Avada. Available both in free and paid versions.
Key Features:
It's a multi-directory plugin with a different set of functionalities.
Enables CSV import and export with custom fields.
Highly extensible and customizable.
Integration with Open Street Map and Google Map.
Enable New, Popular, Featured, and Open/Close badges.
Sustainable for long-term use.
Creates a listing directory for BuddyBoss.
Spaces Engine as Your Go-to Directory Solution
Here goes our 6 Best Business Directory Solutions for your WordPress Site. In this list, the ideal plugins to build a powerful directory solution for your BuddyBoss community are – GeoDirectory and Directorist.
Both of the plugins are lightweight and help to build user-centric online business directories for your BuddyBoss community. The integration is light and simple; but what makes Spaces Engine different?
In this part, we will discuss how Spaces Engine is different from the GeoDirectory and Directorist and why you should choose Spaces Engine for your BuddyBoss community.
A Feature-Rich Platform:
Spaces Engine is a feature-rich business directory platform for the BuddyBoss community. Enriched with advanced features like an activity stream, community message, and custom fields for adding additional information, you can take your community standards with Spaces Engine to a whole new level.
The Spaces team makes sure you can personalize your store preference infinitely. We have official docs to help you with every aspect of this plugin installation and activation. Check out the Spaces Engine knowledge base here.
Besides, our official support team is always ready to provide support and solve customers' inquiries at any time of the day. Just send us an email here.
What Are the Space Features? Check them out here.
1) Space for Any Business: It's not just one! List all of your business directories with Spaces. Here, each company profile is known as Space. You can create several business profiles and build different customer segments to promote marketing accordingly.
This doesn't only help you to reach more clients. But also, ensure an increase in sales. With Spaces Engine, you can create Spaces with administrative authority. However, Space owners have the full freedom to personalize Spaces and present accordingly.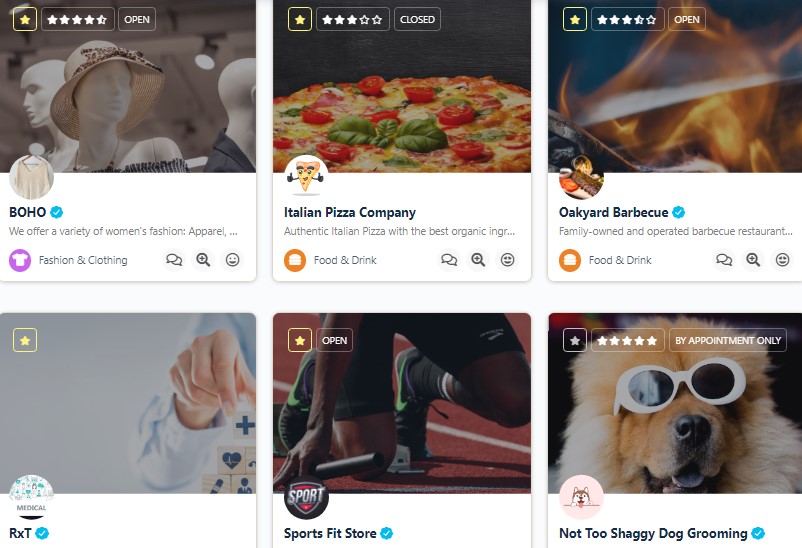 2) Activity Stream: Encourage your community to be a part of active discussions in Spaces. With each Space, there is a dedicated newsfeed where you as a brand can post texts, images, or videos. You can also announce feature updates, post GIFs, or take community feedback on certain topics. It is fun, and engaging and helps to grow an active community.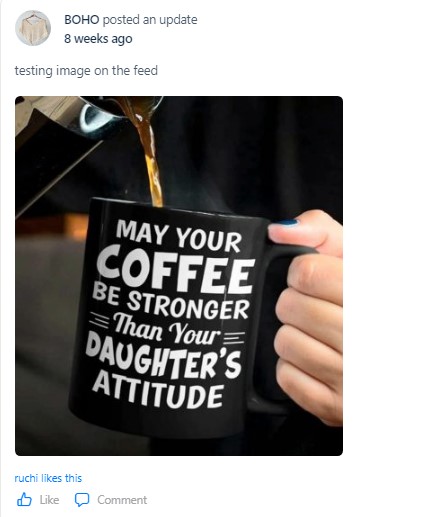 3) Filters to Find Spaces: The index is the page from where you can navigate all the Spaces. To find any specific Space based on location, business type (categories), work hours, or alphabetical order, you can set filters and get the business profile you have been looking for.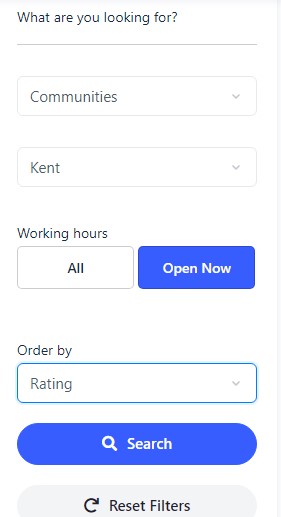 Our team at Spaces Engine is highly focused to ensure an easy and quick way to your desired Space without spending a lot of time. Hence, with Spaces, you will get a user-friendly interface all the way to the end.
4) Set Preview Modal: Present your business smartly with Spaces Engine. Give the audience a hint of your business without having to get into the details. With Space Preview Modal, you can set up a featured preview for your business with all the important information.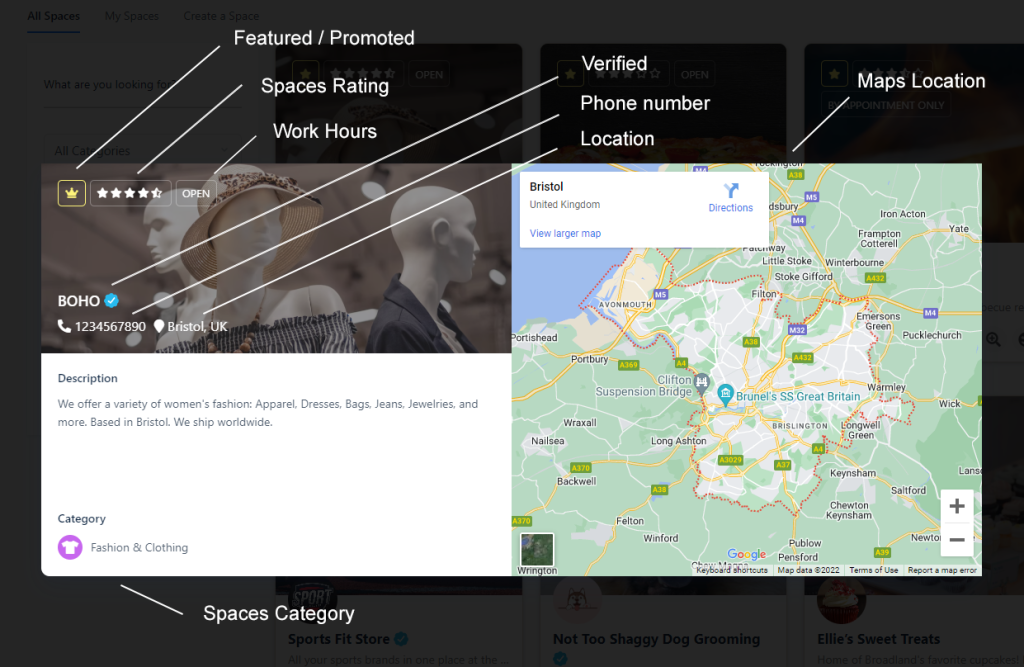 With the Preview Modal, customers can learn more about your business type, description, location, work hours, business ratings, and other information.
5) Secure Communication: Send direct messages to individuals as a Space. Meanwhile, customers can also establish direct communication with Spaces. Share GIFs, texts, and images. Space inbox enables private messaging for any members.
Here, owners, admins, and editors can send and get private messages without having to expose their identities. Whereas Space members can also send messages maintaining the same privacy.
6) Custom Fields for More: Use custom fields to insert detailed information about your store. For any kind of personalized information, you can place custom fields in every Space. To learn more about using custom fields with Spaces, visit here. Information you place with custom fields can be found in Additional Information from the Settings.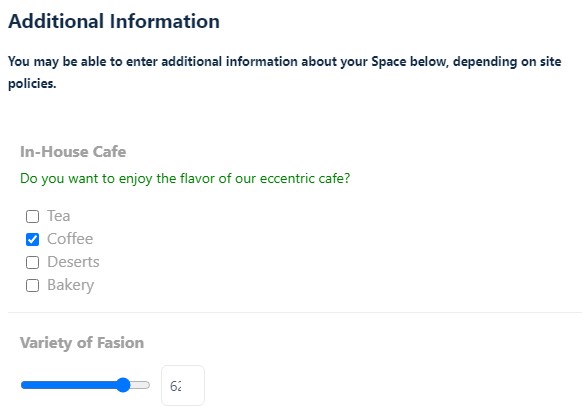 7) Increases Brand Value: With Spaces Engine, it's never been easier to create business profiles with community standards. You can now, add custom fields, and custom tabs, create business categories, add a description and do a lot more to enhance your online Space.
Besides, Spaces Engine gives you the opportunity to attach your social business links with Spaces. You can add Facebook, WhatsApp Business Account, Instagram, Twitter, YouTube, and other associated social media links.
8) Product Showcase: Spaces are developed to ensure a strong platform for directory listing. Here, besides featuring a detailed company profile, you can also insert your WooCommerce product list in Spaces and boost your store sales directly.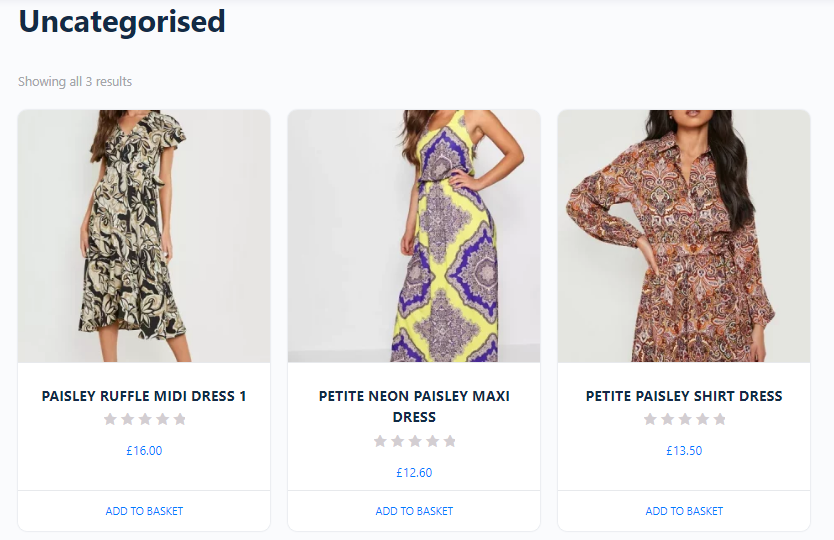 It's an easy process. And anyone can fetch their WooCommere features here using shortcodes. It's fun, isn't it?
9) Improve Reliability with Reviews: How can we forget that? Spaces represent your digital/ physical store and provide an additional face value. With Spaces Engine, you can allow a review section for customers and develop authenticity. Reviews can grow your store sales and increase reliability to 68%, and you know that!

Here are some of the exclusive features of Spaces Engine. But there are more! To give a tour of how Spaces will appear for you, try our demo here.
Spaces Engine Vs GeoDirectory Vs Directorist
| | | | |
| --- | --- | --- | --- |
| Subjects | Spaces Engine | GeoDirectory | Directorist |
| Compatibility | Fully compatible with BuddyBoss | Fully compatible with BuddyBoss | Fully compatible with BuddyBoss |
| Listing Type | Any type | Free listings with minimum details, such as business name, telephone, logo, and a brief description. | Any type |
| Directories | Unlimited | Unlimited | Unlimited |
| Custom Fields | Available | Available | Available |
| Customization | Highly Customizable | Custom Post Types, Custom Map Types | Super Customizable |
| Custom Tabs | Available | Comes with Tab Builder | Not Available |
| Geo Location Based Search | Yes | Yes | Yes |
| Typography and Color Control | Available | Available | Available |
| Activity Stream | Available | Available with Extensions | Available |
| Google Map Integration | Yes | Location based directory | Yes |
| GDPR Compliant | Yes | Yes | Yes |
When it comes to BuddyBoss Community, you can choose any of the three plugins here – GeoDirectory, Directorist, and Spaces Engine. Given all the benefits and features above, you know what is best to improve the community driven standards. GeoDirectory is perfect for enlisting location based directories whereas Directorist comes as a handy solution for location and category based listings.
Other plugins like the Connections Business Directory or Business Directory Plugins come with simple features. For starters, these two plugins can do just fine. However, if you are looking for advanced directory plugins for your WordPress website, we suggest you go with Classified Listing Pro or Advanced Classifieds and Directory Pro.
Get Spaces Engine today to build a powerful company profile within the BuddyBoss Community.