BuddyBoss is essential for online community platforms. Over 26,000 WordPress websites use BuddyBoss to build fully functional community hubs. It's an ideal solution for those who are looking forward to selling membership, and courses, or doing a lot more with their WP websites.

But have you ever thought you are missing something with BuddyBoss? Yes, BuddyBoss is an excellent WordPress plugin for selling membership – courses, creating member profiles, maintaining community groups, and a lot more. Can you use this platform as a business directory?

There are smart options like creating business groups and assigning organizers. But to use this opportunity to build up a strong company profile is merely in your hands – until Spaces Engine showed up!
BuddyBoss Features: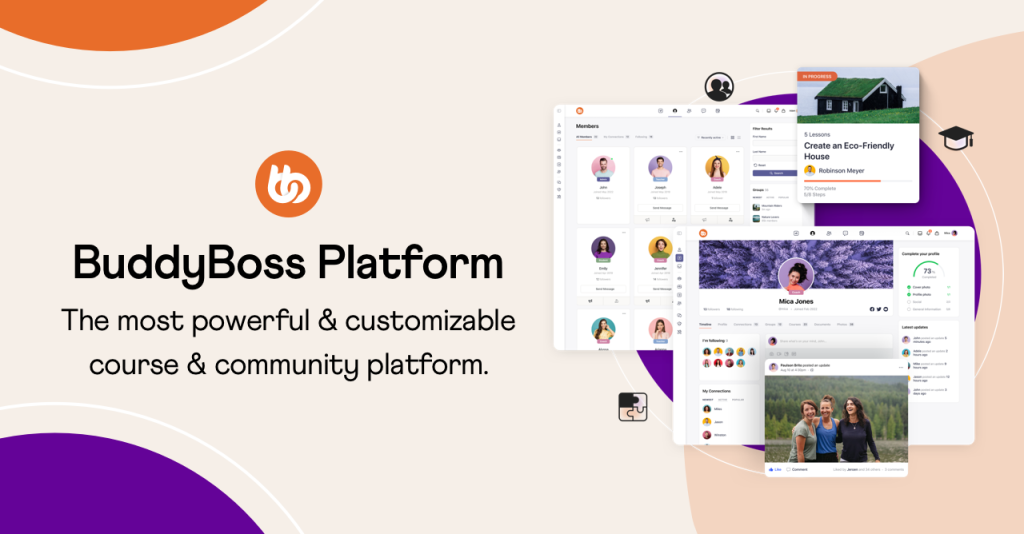 Being a feature-rich community plugin, BuddyBoss holds your people together. You can sell online courses, create online forums or a powerful base for training employees, run private groups, and do a lot more.
There are other essential features that you'll enjoy with BuddyBoss. Before we start how Spaces Engine helps your online community grab the benefits of an online business directory, let's take a look at things you will enjoy with BuddyBoss. 
Bring Your Community Closer: There are many alternative solutions like ARMember, or Membership to create online community platforms. However, none of them are proven to be as efficient as BuddyBoss.

BuddyBoss works as a compact solution for keeping your community together. Here, members can enjoy all the benefits of an online community platform and get what they came here for.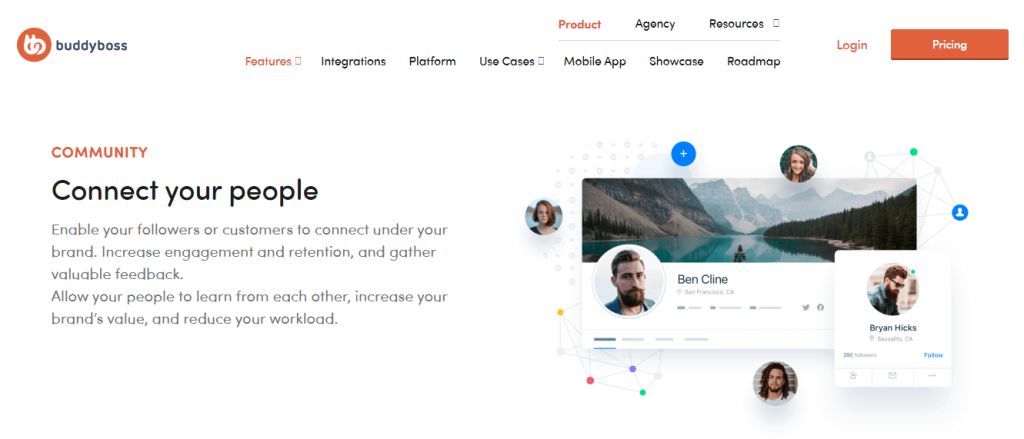 Create Member Profiles: With BuddyBoss, you can create member profiles for anyone who subscribes to your website. Assign the profile types under any WordPress roles and limit their activity as you like.

Members can also personalize their details, be a part of the community and enjoy other BuddyBoss features.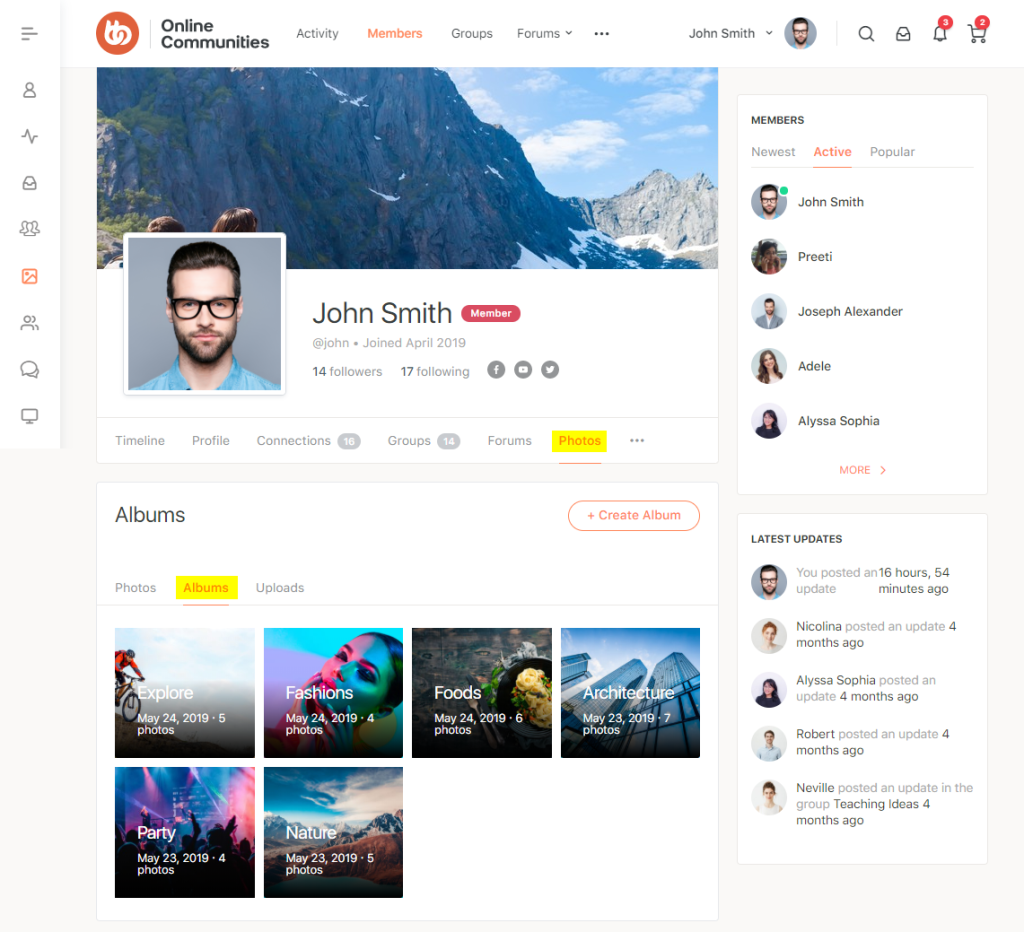 Preview Activity Streams: Here, subscribers can also check on the latest activity of what's going on with your site. Activity stream helps them to stay connected with the activities within a site and stay on the same page.

Like websites, members can also check on the streams of activity for any specific user – comment, mentions, and engage with them easily. This feature helps members to establish two-way communication and develop strong relationships as community members.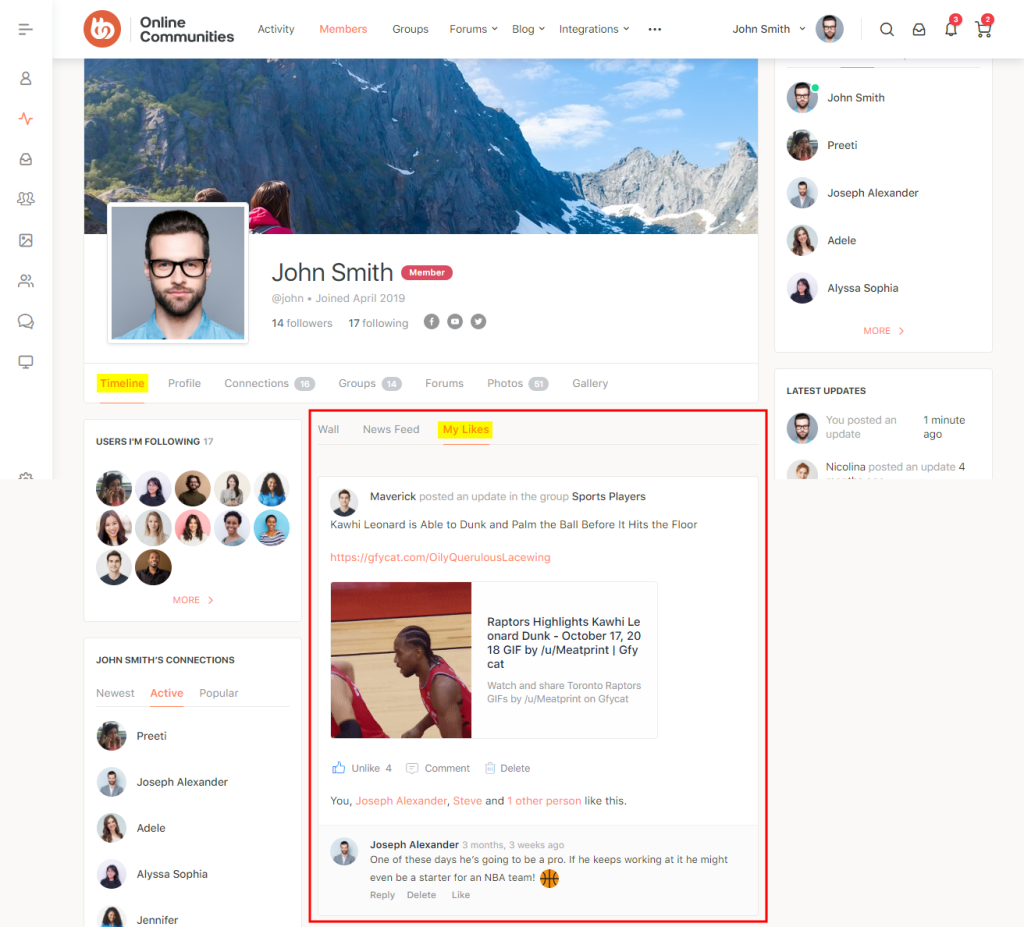 Create Groups: To bring your community members even closer, you can create groups, and allow your members to start a discussion. Such activity will indulge them to play an active role in the community.

Administrators can allow users to create their own groups and manage them. Groups can be set as private, public, or hidden; whatever privacy policy you prefer. Also, group admins can assign organizers to these groups and manage roles accordingly.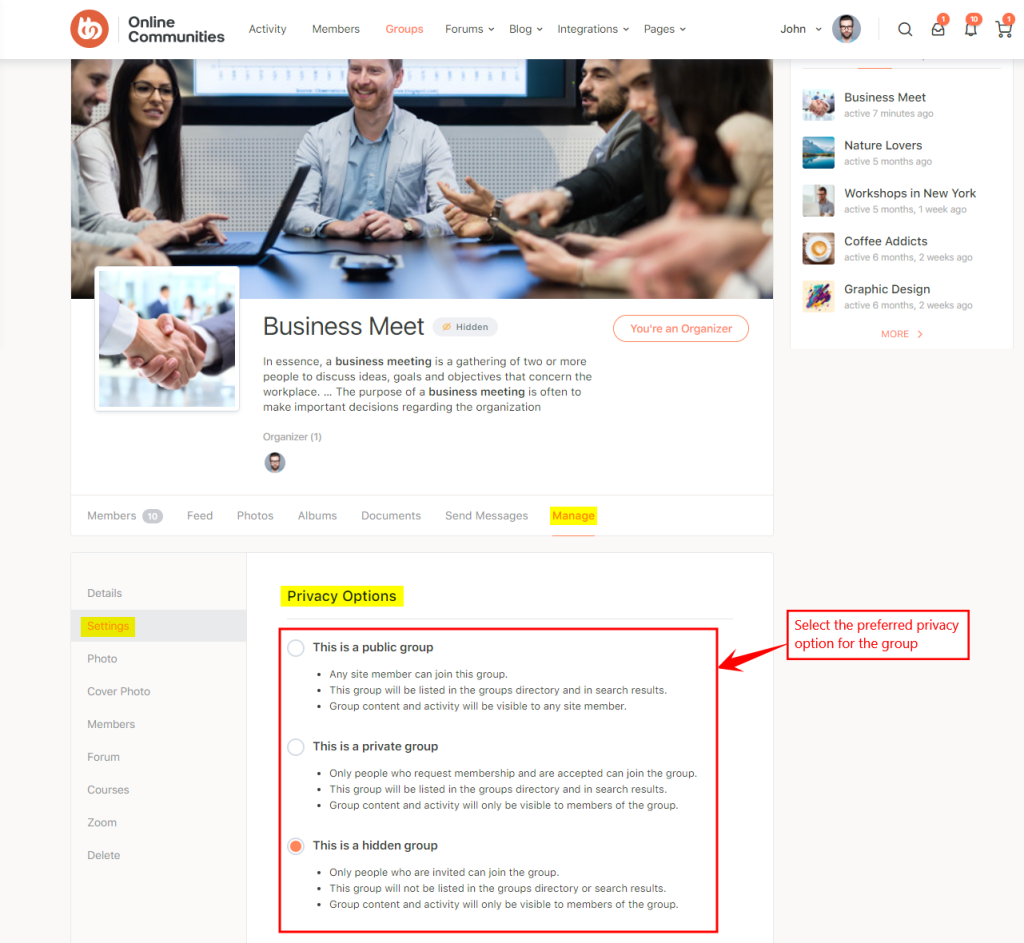 Write Blogs: Being a part of the BuddyBoss community is like managing any other social media account like Facebook – but with a lot of extended features. Here, members can manage their details, send messages, create groups, and do many more.

With these features on, administrators and members can also enjoy the privilege of a fully functional blogging platform with BuddyBoss. You can write and publish your own blogs thriving the opportunity to engage more members.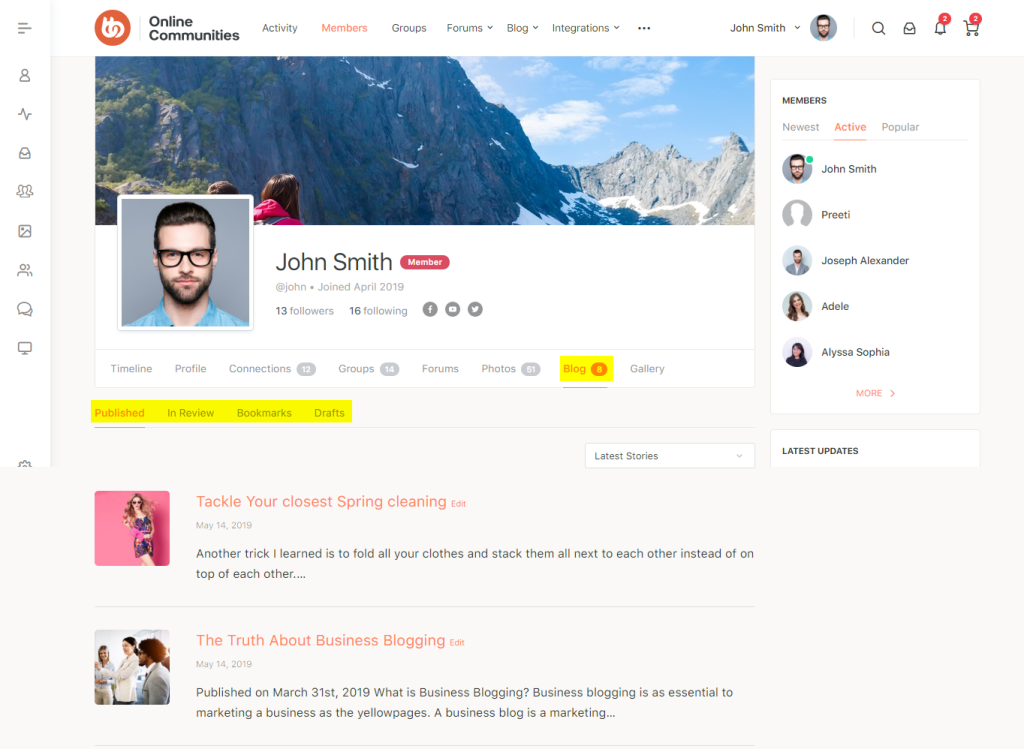 Forum Discussions: Invite your community members to take part in active forum discussions. Indulge them to share knowledge on any particular issue. Help others and be helped; thus extending the community.

BuddyBoss is completely integrated with bbPress. Hence, creating and managing forums is as usual welcome with BuddyBoss.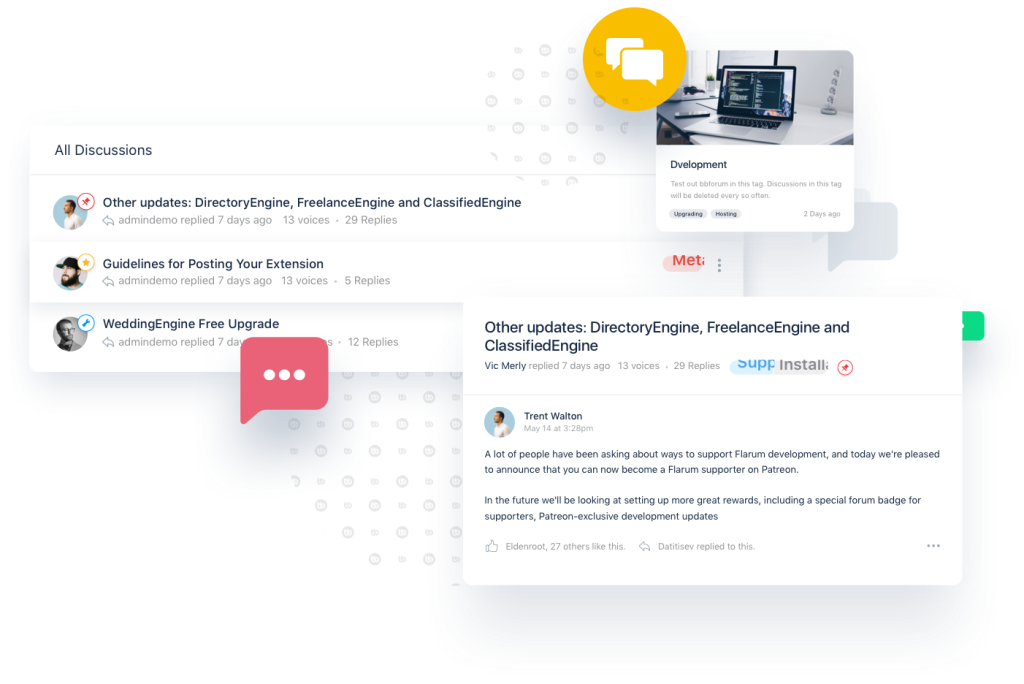 Integration with Powerful Plugins: Expand the membership of your community users by offering seamless integration with powerful plugins like WooCommerse, GamiPress, TranslatePress, LearnDash and many more.

People enjoy when they have the flexibility to easily connect with other plugins and enjoy those features. BuddyBoss vouches for this facility at its best.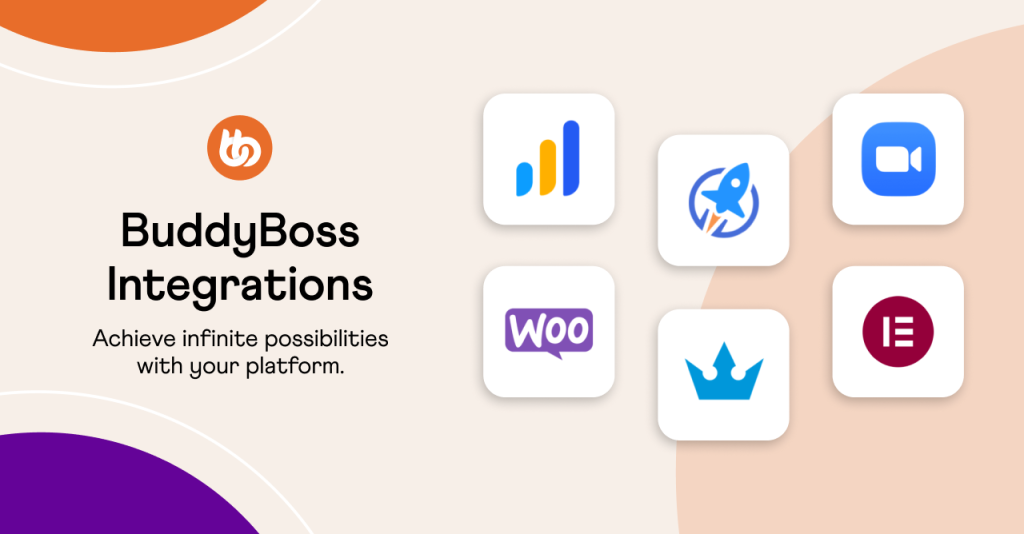 BuddyBoss makes sure you can build a feature-rich community platform. Here, members can participate in different group/ forum discussions. In return, they will strengthen your community and reach out to more people. Now, let's find out what Spaces Engine builds up within your BuddyBoss Community.
Spaces Engine Features:
Spaces Engine allows you to build a fully compact business profile for your brand. Here, customers can talk about your business, gather information, inbox your store and do a lot more. As any Space owner, you can customize your store features in multiple ways. Here's a list of features Spaces Engine holds for you.
An Ideal Business Directory: With Spaces Engine, you can showcase your detailed business profile. Not just one, if you run multiple businesses at the same time, create one Space for each one of them.

To let people know about your company, you have to be transparent and provide all kinds of  information. Interested buyers would want to know more about your company profile.

SpancesEngine allows you to add all sets of information including contact info, address, email, WhatsApp info, opening time, and other additional information. Here, you can also add custom information such as – Parking Lots, Store Type, etc with the help of custom fields. Basically, there is nothing you can't do with Spaces for building a handsome company profile.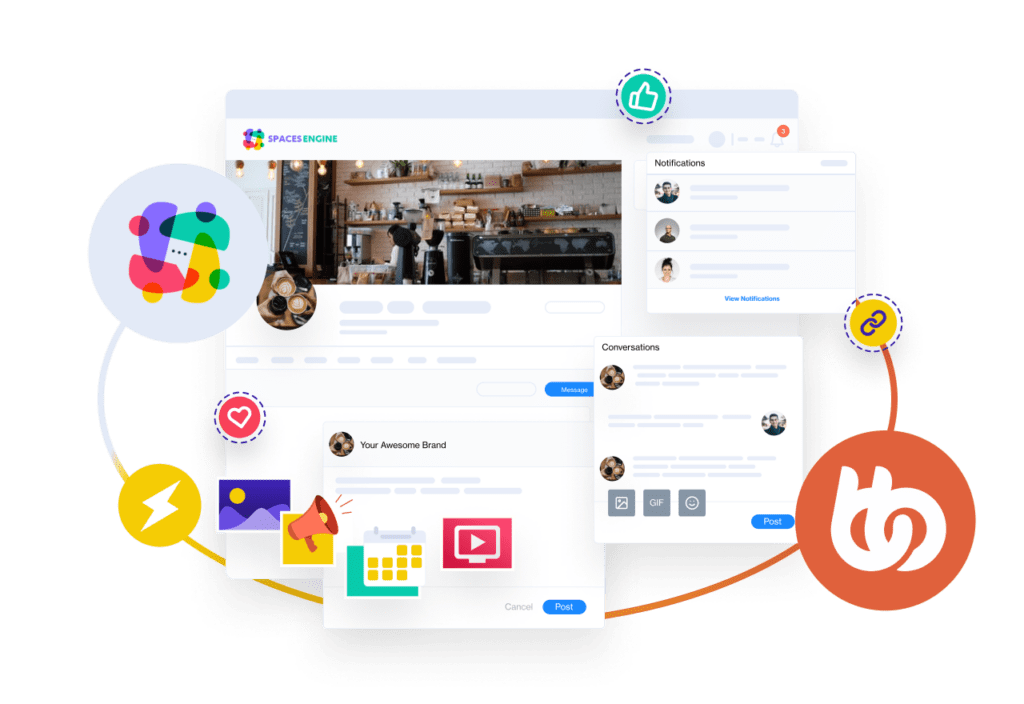 Show Preview Modal: Being a part of the community already requires a lot of engagement. It's quite normal if people avoid opening up Spaces and getting a view. In this case, they can showcase your company profile from the Preview Modal ahead.

Preview Modal presents a quick view of your Space. It contains multiple pieces of information about your business category, location, description, contact info, and other essentials. Space Previews save time and help get useful information effortlessly. You can learn more about Spaces Preview here.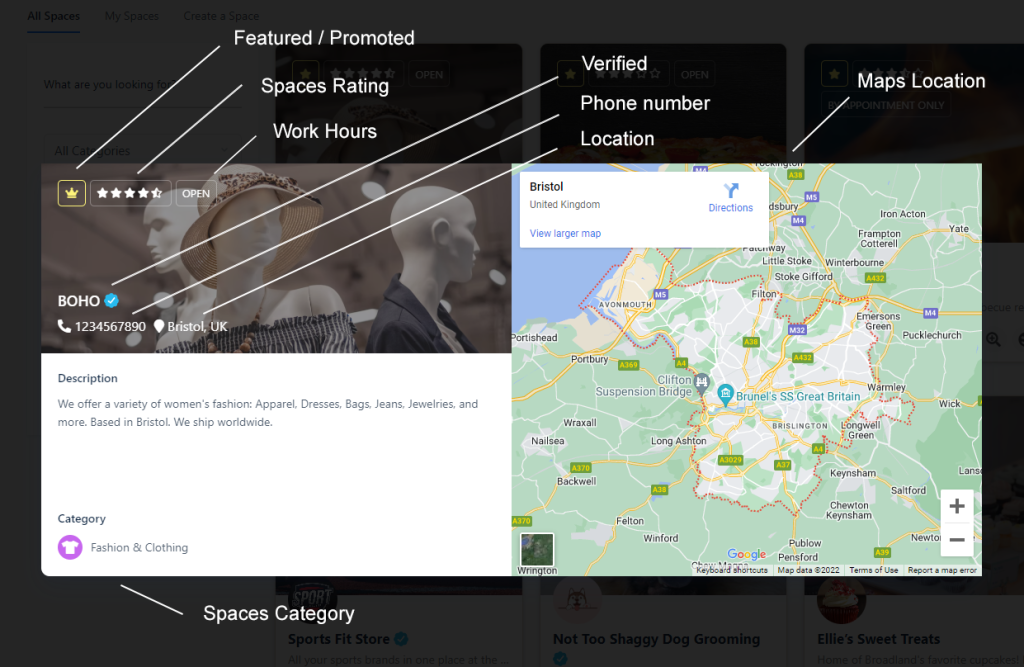 Custom Tab for Custom Opportunities: Prepare your Space for any upcoming events or donation campaigns as you wish. Using the Custom Tab, you can run events, and campaigns, or showcase any important activity coming ahead.

Custom tabs also help you integrate important features like Job Openings from other powerful plugins. Our official doc will give readers a head start with Custom Tabs.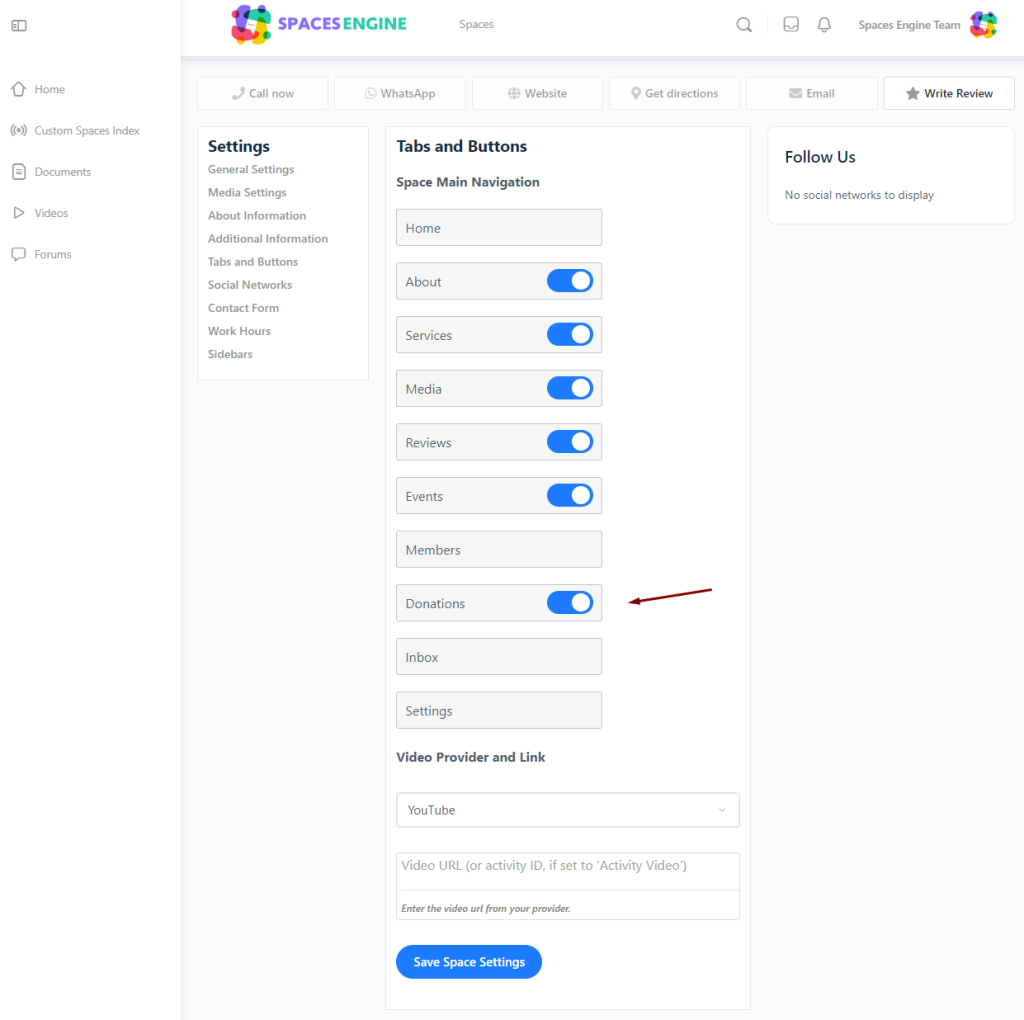 Integrate with Powerful Plugins: It's possible to get all the exclusive features of powerful plugins like WP Job Manager, The Events Calendar, or membership plugins like Wishlist, Restrict Content Pro and others. In fact, there is an additional setting option especially for integrating with the events calendar.

With Spaces Engine, you can integrate with all the essential plugins needed to feature a standard store.  For every successful integration, we provide full detailed documentation. Integration with other plugins is a progressive journey. Soon you will be able to connect with more powerful plugins with Spaces. 
Restrict Space Creation: This feature is manageable by site administrators. To manage Spaces orderly, website administrators often need to limit Space creation. You can do this easily with the help of other membership plugins like WishList Member, Restrict Content Pro, and MemberPress.

You can raise a discussion in our social group to learn more about connecting with other membership plugins.

Get Real-life Review and Ratings: Using Spaces for your business platform is like managing a Facebook business page. Here, customers can add reviews about your service or products. They can segment reviews based on your business type and add detailed feedback.

Reviews are crucial for any business type. A larger number of online buyers rely on the eCommerce platform to purchase their essentials. Hence, allowing reviews through Spaces will increase the number of active conversions.

Highlight Your Products: You are presenting a company profile with Space. Hence, showcasing your products can act as an advantage. Don't worry! Spaces Engine got you covered with that you.

You can easily bring your WooCommerce Product list to Spaces. Customers can add products to baskets and even check out. The process is extremely easy. Use shortcodes to insert the product page or any other page into your Space.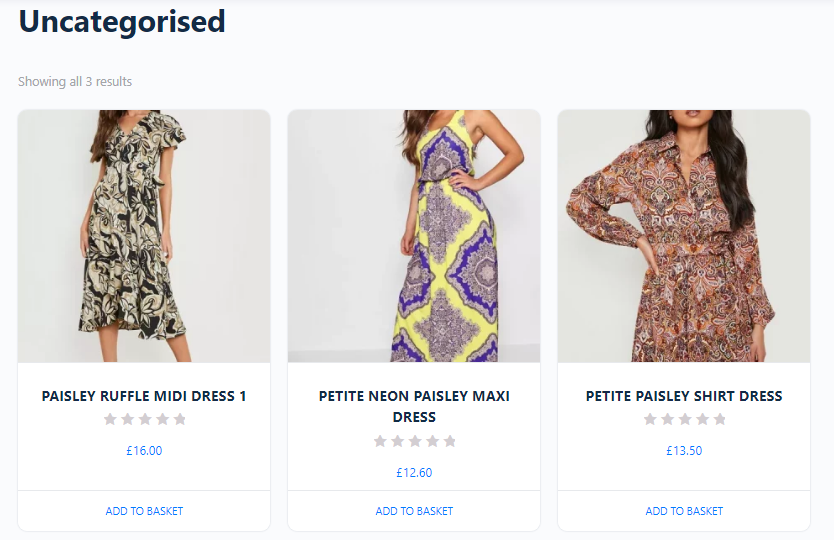 Run Events: Spaces Engine has an additional setup for the Events Calendar. We know events are important for your business growth and expanding the community. Once you have enabled the Events Calendar Integration, all you have to do is activate and set up the plugin.

Spaces owners can add the Events option from the front end using Tabs and Buttons (learn more here). They can create events as they like, and send for approvals. Website administrators can preview the events before publishing.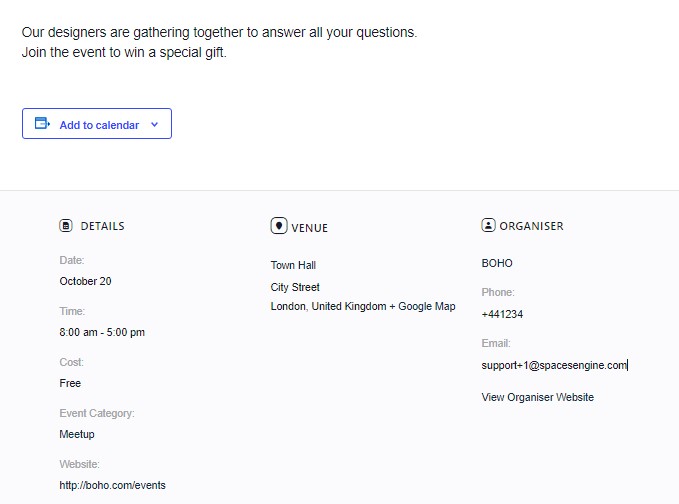 BuddyBoss without Spaces Engine: What Will You Miss Out?
BuddyBoss is a powerful platform to develop an active community. You can sell memberships, courses, and employee training, and do a lot more to set up community websites. However, there are still some things missing such as using this platform as a robust business directory.
Without Spaces Engine you will not be able to build a company profile within a BuddyBoss community. And, miss out on all the additional conversions you can have from Spaces.
According to Philip Judge, founder of Blockli:
Spaces fills in the missing parts of BuddyBoss groups. Sometimes you want to create a following around your brand and that's what the Spaces plugin does. There is a reason Facebook distinguishes groups from pages and I see spaces as the Pages of Buddyboss. And behind the plugin is a great team making a powerful plugin that transforms the Buddyboss platform.
Philip defines clearly how Spaces Engine helps to develop a community around your brand. Spaces are like Facebook pages that enable you to reach a potential community. You can give your business an additional opportunity to grow, expand and reach possible customers.
Other Space users also said:
Absolutely ideal platform, does something that BB Groups has been waiting for ages, create clean and easy to index places for businesses and organizations in Buddyboss that integrate and react with Multiple users. Also, a great team constantly innovates the product fast. This is an awesome plugin and well worth it

– Derek Knox
The product is amazing and such a great benefit for our social community. I strongly recommend it

– Adrian
BuddyBoss is a great way to start a powerful community in your niche outside of the big data-hungry players. However, BuddyBoss lacks an option for businesses to present themselves accordingly – until now! With Spaces Engine, you can finally provide companies with their own dedicated business pages aka Spaces, where they can showcase their team, products, and services ……….. BuddyBoss Theme 2.0.

– Stefan G
You can clearly see how people react to Spaces and appreciate the team effort.

Spaces Engine helps to develop an active business platform that is highly energetic and drives more conversion. Use Spaces Engine to reach out to the world outside and create a powerful business profile.

Some prefer Spaces Engine as an excellent marketing tool also! You can develop your own brand awareness and increase credibility with Spaces. Spaces clearly helps you to stand out from the competition and grow more! 
If you want to learn more about Spaces, we are always here to help. Try our demo today to enjoy the exclusive features of Spaces Engine.