BuddyBoss is a remarkable platform to build a feature-rich community on WordPress. With BuddyBoss, you can completely unlock all the social networking features and grow a powerful community.
For such a feature-rich platform, one question remains! Can you use BuddyBoss as a powerful business directory solution? Yes, BuddyBoss is an excellent tool to develop membership profiles, groups, activity feeds, messaging, and more!
But it was nearly impossible to use BuddyBoss for a fully functional business directory – until Spaces Engine showed up! Spaces Engine comes with features that will help you build a complete directory solution for BuddyBoss. In this article today, we will learn why you need Spaces Engine with BuddyBoss.
Spaces Engine for Your BuddyBoss Community:
Spaces Engine is the ultimate directory solution for the BuddyBoss community. While BuddyBoss is the king of premium features to build a powerful community network, adding a fully optimized directory solution with BuddyBoss will unlock a room full of opportunities for business people!
You can, however, use directory plugins like GeoDirectory or Directorist for BuddyBoss. But Spaces Engine is ahead of its time! Here, learn more about Spaces Engine Vs alternate business directories.
What makes Spaces Engine Different from others? And why should you choose Spaces Engine as an ideal directory solution for your BuddyBoss Community? Find out why:
1) Spaces Are BuddyBoss Pages:

You must use Facebook or other social channels. There is a reason why groups are different from pages. Pages are open for all; where people can engage with your expertise directly. While groups are for a collective of people you allow only!
Spaces are like pages of BuddyBoss. Individual Space represents a different business profile. You can customize your business information here and add a variety of new information and features to enhance your directory.
With Spaces Engine, it's more than a directory listing where people can communicate, review, learn more about your expertise, and spread the word in turn!
2) Additional Hand in Marketing:
There is no alternative to active marketing if you want your business to get a front face. It is mandatory to promote and use different platforms to reach a variety of customers. Spaces act as the individual front face for your business type. They help to reach the members of the community and beyond. With Spaces Engine, you can target and improve a new segment of possible customers and power up your business.

Using Spaces Engine with BuddyBoss gives you an additional hand for Digital Marketing. You can share your business profile created with Spaces Engine on different platforms – websites, emails, physical prints, and other social media channels like Facebook or LinkedIn.
3) Reviews to Earn Credibility:

Why should people engage with your store without having a second thought? Or, refer your business to friends and family? The answer is – when they have authentic reviews from real people about your service/ products.
Reviews and ratings improve store credibility and help get more interested prospects. Customers, after all, are the real judge of your service. Real reviews from people will aware others of your service/ product type adding positive value to your store. Hence, you can use the activity stream and inspire more people to get positive reviews about your expertise and stand out in the competition.
4) Magnified Directory Features: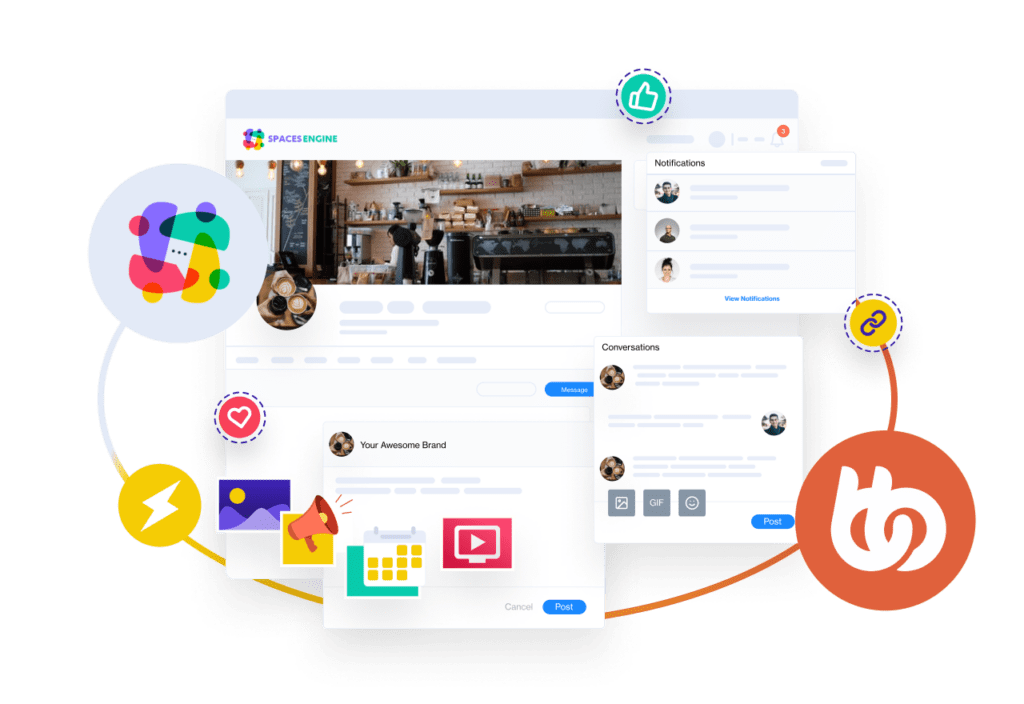 Spaces Engine offers a broad platform to enhance directory features. You can have seamless integration with powerful membership plugins like Wishlist Member, Restrict Content Pro, and MemberPress. These membership plugins allow you to assign Spaces to different user roles (both for WordPress and BuddyBoss).
To turn your business directory into an active job listing platform, integrate Spaces with WP Job Manager and unlock all the exclusive features. Besides, Spaces Engine comes with default settings for The Events Calendar. You can install the plugin and start creating active events to increase community engagement.

5) Brand Awareness and Engagement:
Having a powerful business directory platform in BuddyBoss will help you develop a strong brand impression. BuddyBoss builds a powerful community with members of different tastes. Targeting these people and pushing content will sooner or later engage this customer segment.

Besides, an active feed with a running business will ensure you earn an additional front face for your store. To outstand the competition, there is no alternative to having potential platforms. Spaces will help you gain more customers and highlight your business, products, and services to the world outside.
In a nutshell, Spaces Engine provides business owners with all the important features they need. With this powerful platform, you can seamlessly create a fully functional open platform for your company and attract more leads.
6) Showcase Your WooCommerce Products: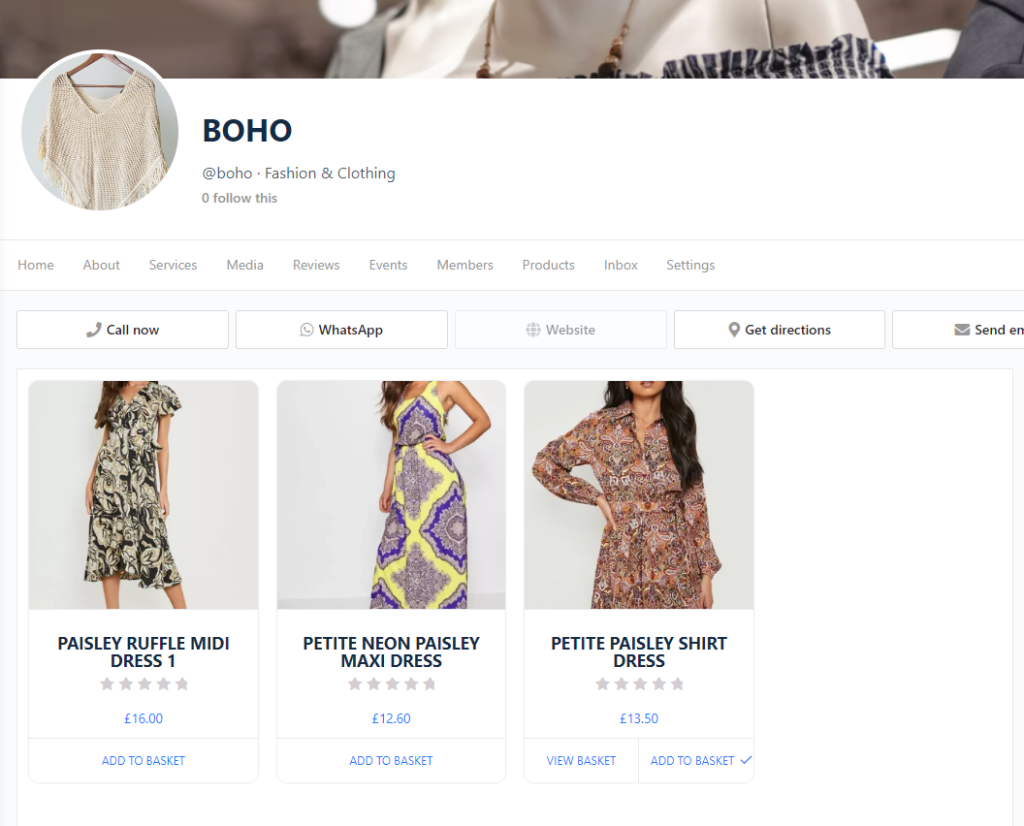 For a successful WooCommerce business, you need to highlight your store products on dynamic platforms. And, what's better than a robust Space where you can provide all the detailed information showcasing your store products?

Yes, with Spaces Engine, you can promote your WooCommerce products to the BuddyBoss community. The process is quite simple. It only requires the insertion of a shortcode to place all your Woo products in a separate tab. To know more about how you can place your WooCommerce products on Space, check out this article here.
7) Two-way Communication: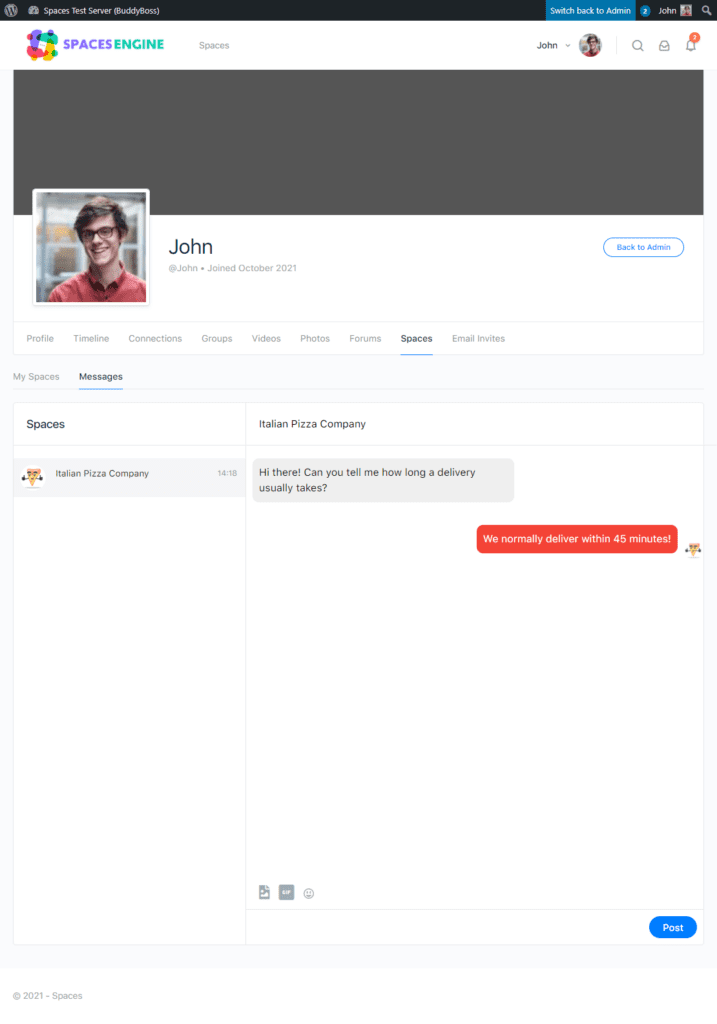 To ensure a dynamic flow of information, you need to provide a strong communication channel for your audience. With Space, it is a progressive process! You have a powerful activity stream where people can interact with each other and Spaces.

Besides, there is a general inbox for messaging where admins and moderators can send and receive messages as Space. Both Space owners and people with queries can communicate anonymously. Here, no individual IDs get involved like BuddyBoss. To know more about Space messaging, here's a detailed doc for you.
Final Words:
Spaces Engine assists in creating a dynamic, highly energizing commercial platform that increases conversion. Reach out to the outside world and build a strong business profile using Spaces Engine.
Others consider Spaces Engine as a fantastic marketing tool! With Spaces, you can strengthen your brand recognition and trust. Spaces undoubtedly enable you to differentiate yourself from the competition and expand. We are available to you at any time if you want to learn more about Spaces. To experience Spaces Engine's unique features, try out our demo right away.